Window Cling Printing comes in full color on one side, with 3 stocks to choose from and are available in many popular sizes.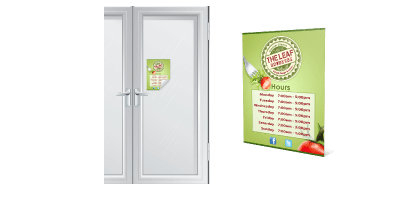 Window Cling is either light adhesive-backed or designed to cling by using static and prints on 4 mil clear or frost white synthetic material in full color on one side. It is designed for display on window glass, though you can also use it on other smooth surfaces. Window Cling comes in a range of sizes from 1′ x 1′ to 75′ by 53″ (inches).
For Window Cling material adhered to the inside of a window and intended to be viewed from the outside, be sure to flip your image and order Clear Low-Tac Adhesive. Due to the 4-color process, clear Window Cling will not print white. Any white in the design will print as clear.
Because of the wide potential size range of our large format products, there are additional file setup considerations. Proofs are typically shown half size. For other details, please review the file setup section carefully.
Note: Due to material all substrates may expand or shrink from batch to batch, making exact cuts very difficult. We do not recommend borders. If you would like borders please make sure they are at least 2″ thick. We will not reprint if the borders are not exactly the same on all sides.
Window Cling Uses:
Graphics
In-store point-of-purchase displays (retail store displays)
Event signs and promotional signage
Anywhere you need to display large photographic-quality images
File Specifications:
Suggested final DPI size – 200 dpi
Bleed: 1/4″ all around – Note: Window Cling may not have desired results if printed with full coverage (ink filling the entire sheet). Leaving spaces in or around your design will increase the area that connects the cling to the window. If you choose to print full coverage, we recommend Low-Tac for best results.
Window Cling will be printed at 720 x 720 Resolution. Suggested file format should be PDF and CMYK color space
NOTE: For fastest upload results, we recommend that you ZIP all files before uploading
Material Options:
4 mil. Clear Low-Tac Adhesive
4 mil. Frost White Low-Tac Adhesive
4 mil. Frost White Static Cling
Size Options:
Minimum Size: 1′ High X 1′ Wide
Maximum Size: 53″ High X 75′ Wide
Turnaround Time: 3-5 Days
Note: Turnaround time begins from the time of proof approval.