Brochure Printing comes in full color on one or two sides with 4 paper stocks to choose from and are available in many popular sizes and folding options.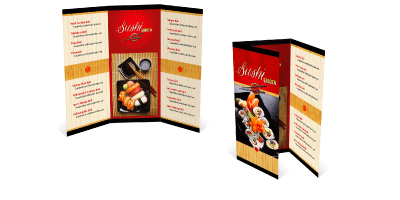 Brochures are a popular format for sharing detailed information in a highly presentable way. They are usually colorful and folded, so they are an efficient format for providing information about your company, its products, and services.
Flyers are like brochures but without any folding.
To order "brochures" that require more than one piece of paper, please go to the catalogs section of this site.
Size Options:
4″ x 10″
4.25″ x 11″
5.5″ x 8.5″
5.5″ x 17″
7″ x 8.5″
7.5″ x 8.5″
8″ x 9″
8″ x 10″
8.5″ x 11″
8.5″ x 14″
9″ x 12″
9″ x 16″
11″ x 8.5″
11″ x 17″
11″ x 25.5″
12″ x 18″
17″ x 22″
Paper Options:
100# Linen Cover
70 # Linen Text
100# Gloss Text
100# Gloss Cover
70# Uncoated Offset Smooth Text
14 Pt. Uncoated Cover
14 Pt. Gloss Cover
Color Options:
4/4 Full color on both sides of the sheet.
4/1 Full color on the front and black on the back.
4/0 Full color on the front and no printing on the back.
Coating Options:
AQ Coating (Semi-Gloss) on both sides only for gloss stocks
UV Coating (High-Gloss) on both sides only for 100# Text stocks
Uncoated stocks have no gloss coating
Folding Options:
Half-Fold
Tri-Fold
Z-Fold
Double Parallel Fold
4 Panel Roll Fold
4 Panel Accordian Fold
11×17 fold to #10
Double Close Gate Fold
Map Fold
Quarter Fold
Vertical Half Fold
Turnaround Time: 2-3 Days on 100# Text stocks, 5 Days on all other stocks
Note: Turnaround time begins from the time of proof approval.